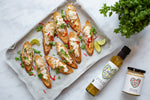 INGREDIENTS
1 small skinny baguette, cut on the diagonal into thin slices
1 tbs olive oil
200g white crab meat 
Handful of chopped coriander
Lucy's Chilli and Lime Mayo
1 red chilli finely slice
METHOD
Preheat the oven to 180c / 160 fan.

Place the baguette slices on a  greaseproof lined baking sheet  and drizzle over the olive oil. Season with salt and pepper and bake for 12 -15 minutes until golden and crisp. Allow to cool.

In a bowl mix the crab and coriander together with 2 - 3 tablespoons of the mayo. Spoon onto the crostini and sprinkle over the  chilli.