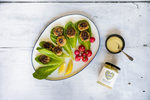 500g Chicken Mince
1 large Courgette, grated
4 Spring Onions, thinly sliced
1 clove Garlic, crushed
1 Egg, beaten
1 tsp Paprika
Handful of Mint
Handful of Coriander, chopped
2 tbsp Olive oil
1 Lettuce
Lemon Wedges
METHOD:
In a large bowl mix together the chicken, courgette, spring onions, garlic,egg, paprika,

 

herbs and season well with salt and black pepper. Shape into mini burgers (50g) and chill for an hour.
Preheat the oven

 

to 220c fan/220c.
Heat the oil in a large frying pan. Sear the burgers on all sides until golden and transfer to a lined baking sheet. Place in the oven for 5 -7 minutes or until cooked through. Serve in lettuce cups with Lucy's Lemon and Mustard Mayo and lemon wedges.