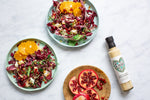 Here at Lucy's, we're strong believers that salads certainly aren't just for summer! We've put together some of our favourite autumnal recipes, which are perfect to brighten up any cold, October evening. 
ROASTED BUTTERNUT SQUASH WITH ROCKET AND BURRATA
The burrata in this dish adds an extra little bit of indulgence to this salad and is the perfect accompaniment to the roasted butternut squash. 
INGREDIENTS
1 medium Butternut Squash
2 tbsp olive oil
½ tsp chilli flakes
1 ball Burrata
50 g Rocket
Lucy's Green Pesto Dressing
METHOD
Preheat the oven to 200c / gas 6.
Cut the squash in half lengthwise and then into 1cm wedges. Place on large baking tray and drizzle over the olive oil. Sprinkle over the chilli flakes and season with salt and pepper. Place in oven and roast for about 30 minutes or until squash is tender and golden brown at the edges.
Place the butternut on a large serving plate, tear over the Burrata and top with the rocket. Drizzle over the dressing and serve.
APPLE, BEETROOT, GOATS CHEESE AND WALNUT SALAD
The earthy flavours in this dish is what brings this salad to life and for us this really is Autumn on a plate! Delicious as a main course for two or a side salad for four, we could happily eat this all day. 
 INGREDIENTS
4 medium beetroots, cut into 1 cm wedges
1 tbsp olive oil
250g Chicory, trimmed and leaves separated
50g rocket
2 red apples, thinly sliced
25g chives roughly chopped
100g goats cheese
75g walnuts, lightly toasted
Lucy's Original French Dressing
METHOD
Preheat the oven to 200c / Gas 6.
Put the beetroot on a baking sheet lined with baking parchment and toss with the olive oil. Season and roast for 30 -35 minutes, turning once, until tender and slightly charred around the edges. Allow to cool.
Place the salad leaves on a large shallow plate. Top with the beetroot, apples , walnuts, chives and crumble over the goats cheese. Drizzle generous with the dressing.
BITTERSWEET SALAD 
 This bittersweet salad, as the name suggests, has the most wonderful variety of flavours with the added sweetness from the fruit complimenting the bitter raddicio taste
INGREDIENTS
1 small Radicchio, leaves torn into large pieces
1 Red Chicory, leaves separated
1 orange, peeled and thinly sliced
Handful of small red leaves
150 g Ricotta
25 g pine nuts , toasted
75g pomegranate seeds
Lucy's Light And Tangy Dressing
METHOD
Place the radicchio and chicory into a large salad . Drizzle over 2 tbsp of the dressing and toss together .
Top the leaves with the orange slices, spoonfuls of ricotta, small salad leaves, pine nuts and pomegranate. Drizzle over extra dressing.
We'd love to know if you make any of these recipes, so do tag us in your creations on Instagram or Facebook @lucysdressings 
Love, Lucy's Dressings x