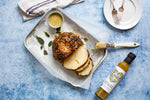 1 large Celeriac
1 tbsp olive oil
2 tsp of flaked sea salt
Sage
Lucy's Lemon and Caper Dressing
METHOD
Preheat the oven to 190c / Gas 4
Place the celeriac on a small baking tray lined with baking parchment and rub all over with the oil and the salt. Roast for 2 ½ - 3 hours, basting every 30 minutes  until the celeriac is soft all the way through and golden brown.
Place on board and cut into wedges. Drizzle generous with the dressing and sprinkle over the herbs.