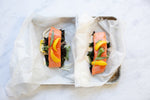 Lucy's Lemon and Caper Dressing
1 small fennel bulb, trimmed and sliced very finely (use mandolin if available)
4 Salmon fillets, skinned
10g tarragon leaves, roughly chopped
4 strips lemon peel
Lucy's Lemon and Caper Dressing
Salt and Black pepper
METHOD
Heat the oven to 200c / 180 fan.
Cut out four 30cm squares of grease proof paper. Dived the fennel between each square  to  one side. Top with the chard and then place the salmon on top. Top each piece of fish with the tarragon and a piece of lemon zest.  Drizzle over 2 tablespoons of the dressing on each and fold over the edges of each to form a parcel and place on a large baking sheet.
Place in the oven and cook for 10 -12 minutes depending how you like your fish cooked.
Serve immediately.