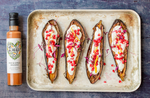 Whoever paired miso & aubergine together was definitely on to something. Now you can recreate this classic recipe at home in no time at all, thanks to our new Miso & Garlic Dressing!
INGREDIENTS:
2 Aubergines
Lucy's Miso & Garlic Dressing
100g greek yogurt
1 -2 tbs milk
Lemon zest 
Handful pomegranate seeds 
METHOD:
1. Preheat the oven to 180 fan.
2. Cut the aubergines in half, cutting through the green stalk. Use a small knife to make four parallel incisions in the cut side of each aubergine half and repeat at a 45 - degree angle to get a diamond shaped pattern.
3. Place the aubergines on a baking sheet lined with baking paper. Brush them generously with the dressing and season with salt and pepper. Place in the oven and roast for 35 - 40 minutes until soft and golden. Allow to cool.
4. Meanwhile place the yogurt in a small bowl and whisk in the milk and lemon zest with a pinch of salt.
5. To serve, place aubergines on a large plate and drizzle with the dressing. top with the yogurt and pomegranate seeds.