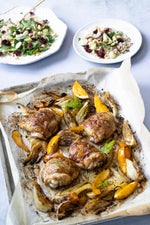 Chilly October days like this have us craving delicious tray-bakes like this chicken, fennel and orange one - the perfect autumnal warming dish 🍂 Our Honey and Mustard Golden dressing is ideal for roasting meat or veggies in and is the perfect way to add fabulous flavour to almost any dish! You can pick up this delicious dressing in As Nature Intended stores or online on Ocado 🧡 To make this dish, you'll need:
INGREDIENTS
8 Chicken thighs
2 fennel bulbs, each cut into 6 wedges lengthways (reserve fronds)
1 orange
Lucy's Honey and Mustard Dressing

METHOD
1. Place the chicken into a large bowl with the fennel. Using a peeler remove 4 strips of orange peel and add to the bowl with the juice of the orange. Season with salt and pepper and mix to combine.
2. Put the chicken (skin side up) and fennel into a large roasting tin. Place in oven and cook for 1 hour , basting half way through, until the chicken is golden brown and the fennel soft.
3. Transfer to a warmed serving plate and top with the reserved fennel fronds.