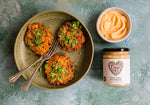 Crispy cauliflower fritters dunked in Lucy's Lime and Chilli Mayonnaise - a match made in heaven.
INGREDIENTS
1 small Cauliflower, cut into 5 cm florets
120g Plain Flour
1 small Onion, finely chopped
20g Coriander, finely chopped
2 Eggs
1 ½ tsp Cumin
½ tsp Turmeric
¼ tsp Chilli Flakes
½ tsp Baking Powder
300 ml Sunflower Oil
Lucy's Lime and Chilli Mayonnaise
METHOD
Bring a medium pan of water to boil and add the cauliflower. Simmer for 3 minutes, drain and reserve 4 tablespoons of the cooking liquid.

Transfer the cauliflower to a large bowl and lightly crush. Add the onion, coriander, eggs, cumin, turmeric, chilli and baking powder. Add the cooking water and mix well until the mixture has the consistency of slightly runny batter.

Heat the oil in a large saute pan until very hot. Spoon 2 tablespoons of the batter per fritter into the oil. Fry for 5 minutes flipping halfway through, until both sides are golden brown. Transfer to a plate lined with kitchen paper. Cook the remaining mixture in batches. 

Serve warm with Lucy's Lime and Chilli Mayonnaise.