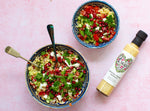 This delicious tabbouleh style salad is made completely delicious with Lucy's Original French dressing - perfect for the summer months!
Ingredients 
110g bulgar wheat
4 large ripe tomatoes
1 small red onion,finely chopped
1 small cucumber
Lucy's Original French Dressing
Large bunch flat leaf Parsley , roughly chopped
Large bunch Mint , roughly chopped
Salt and black pepper
200g feta
Seeds of half a pomegranate (optional)
Method
Place the bulgar in a large bowl, cover with boiling water and leave for 15 mins . Fluff up with a fork.
Cut the tomatoes into quarters, remove the seeds and dice. Add to the bulgar.
Peel the cucumber, remove the seeds and dice. Add to the bulgar with the red onion . Dress the bulgar generously with the dressing and season with salt and pepper. Gently stir through the herbs and transfer to a shallow serving dish. Crumble over the feta and top with the pomegranate seeds if using.