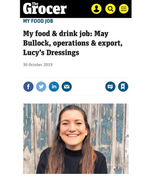 May caught up with The Grocer last week to chat all about her role at Lucy's and what inspired her decision for a career in food, as part of their weekly feature shining the spotlight on under 25s working in the world of food and drink.
May looks after all our operations and export and as she says, "very simply I look after the production and distribution of all products while also exploring opportunities to expand our business overseas." May "became interested in the world of healthy food and well-being thanks to Deliciously Ella and Livia's", and as she says loves working in "such a cool, fun, exciting and innovative industry," where you have a real chance to make a noticeable impact, which is "truly rewarding."
To find out more about May's job and what a day in the Lucy's office looks like, click here to read the article. Thanks to The Grocer for featuring us! 
Lucy's Dressings x