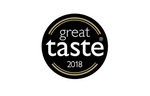 We are really excited to announce that we've won another 2 Great Taste Awards for our Great Golden and Zesty Mayo dressings – giving us a total of 10 Great Taste Awards across our entire range.
Judged by over 500 of the most demanding palates, belonging to food critics, chefs, cooks, restauranteurs and producers, as well as a whole host of food writers and journalists, Great Taste is widely acknowledged as the most respected food accreditation scheme for artisan and speciality food producers.
Here's what the judges thought of our winners:
Zesty Mayo:
'Super idea. Well done for your creativity…. A good mix of flavours that are not too vinegary or salty. We can see that this would work well with potatoes or fish. Very natural-tasting and the stated individual elements come through well. The lemon has been captured cleverly.'
Great Golden
'The sweetness of the honey, complemented by the mustard notes and good levels of seasoning, balances really well with the levels of vinegar to create a delicious, almost homemade-tasting dressing. Great with a fresh green salad!'
You can find our dressings in Waitrose, Ocado, Whole Foods, Selfridges, Harrods, and many other wonderful independents!
Happy tasting!