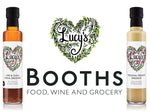 We're thrilled to announce that our Lime and Chilli Asian dressing has launched in Booths stores! 
Our Lime and Chilli Asian dressing joins our Original French dressing on the shelves in their stores. Both of these delicious dressings have won Great Taste Awards and like all our products are made in the UK. 
Head to our Instagram, Facebook or Recipes section on the website for plenty of inspiration on how best to use our dressings. 
Lucy's Dressings x